September 11th, 2006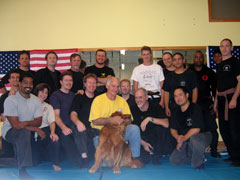 I would like to start with a big thank you to all the participants that have contributed to this year's 9/11 fundraiser. Your efforts both individually and as a group are a testament to what the art of Ninpo can do for the community and in turn, humanity. This year's final tally was 2,175 dollars, thanks to the generous contributions of participants from as far a field as Albany, Boston, Poughkeepsie, Pennsylvania, New Jersey, along with well wishers who were unable to attend from further away. This venture has raised to date over $5,500; it would not have been possible without the selfless contributions of all the people involved whether it was their time, effort or the generous offering of their own resources.
It has been an honor to have been involved with such great martial artists as Jack Hoban, Matt Hildreth, Bud Malmstrom and Mark Davis over the years, an involvement that I hope continues over the years to come. To have earned the respect of your peers is truly a great honor and a privilege that I don't take lightly.
To those participants that have attended our annual fundraiser every year since its inception, you have my wholehearted thanks and deep felt appreciation for taking the time to help us when we needed it. Your unwavering support has been an inspiration to us to continue in our charitable endeavor.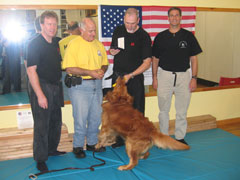 This year the Bear Search and Rescue Foundation honored us with an "extraordinary service to humanity award." It was presented by Captain Scott Shields himself, the founder of the BS&RF, for our fundraising efforts. This award may have been presented to myself on the day but the fact of the matter is that it should shared equally by those that have contributed over the years-it's an acknowledgement to all of us for our efforts.
Our goal has been to help our country and our city heal, by helping our community which in turn may help us to heal. For myself the healing process has been ongoing and one I'm not sure will ever be complete, but our efforts to help others through the BS&RF has been of great help in the healing process. We may never really be fully protected but we can be well prepared.
With your continued assistance we will keep going, we now turn and face the next great challenge, to keep going. Our thoughts and prayers go to the young men and women of our armed services, to whom we owe a great debt of gratitude, for their selfless acts of bravery and for placing themselves in harms way to protect us, and finally to the ones we lost on 9/11 who never had the chance to continue living their lives as we have done.
They died in our name, lest we forget.
2 comments
disasterdog says:

It is hard to believe that you believe Scott Shields, and that you have provided him with money. I did that also, once upon a time, when I believed his stories. But, it turned out they were merely tall tales.

Sadly, Mr. Shields suffers from an advanced case of truthiness.

If you want to learn the real truth about this man and his work, just go to
http://www.scottshieldsfraud.com/forum/

September 12th, 2006 at 12:04 am

Eric says:

Update: For this year, we have decided to donate our funds to the New York Search and Rescue Foundation. You can find out more information about them by visiting their Website here:

http://www.newyorksearchandrescue.org/

September 24th, 2006 at 4:33 pm
Leave a comment
You must be logged in to post a comment.