Links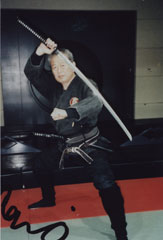 US Bujinkan Dojos
Winjutsu List – A list of dojos around the US
Ninjutsu Information Resources
Bujinkan Dojo – Sōke Masaaki Hatsumi, Japan
Warrior Information Network
Great list of Ryu-ha per school
Henka Doug Wilson's POV on training
Ben Jones: Bugei
Lasting Tradition – Photo feature on Sōke
Bujinkan Kabuto Shimen
Gear, Books, etc.
Tombo Weapons – Officially sanctioned training weapons from Tim Bathurst
Bushin Books – Your source for Understand, Good, Play!

If traveling to Japan
Hombu/Ayase Classes
Japan Travel Tourist Board
Guest House Hanata
Tokyo Hotel & Travel Guide – Comprehensive travel guide to Tokyo Japan including all the main districts in Tokyo city and surrounding suburbs of Tokyo. Plus Tokyo maps, Tokyo itinerary, Tokyo pictures and Tokyo Hotels.
Security Services
Global Security Services
The Praetorian Group
World Institute for Security Enhancement
September 11th Poem
New York – September 11th, 2001
– Don't settle for being one of the many when you can be one of the few.